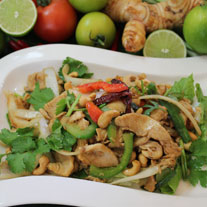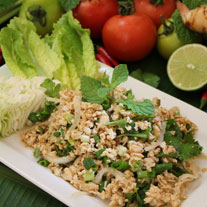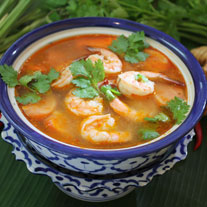 Cashchew nut Chicken
Spring roll
Larb
Tom yum soup
Sliced chicken breast stir-fry with cashew nut, onions, bell pepper and garnished with cilantro and dried chili.

Deep fried golden spring roll stuffed with carrot, long rice, ground pork & spices. Served with slice of fresh cucumber, mint leave, Salad and sweet & sour sauce.
Minced Chicken or Beef, tossed with fresh herb spices. Served with fresh lettuce and cabbage.
Choice of Sea food or Chicken, mushroom, tomato in spicy sour broth. flavored with lemon grass & kaffir lime leaves.
Thai Food is a Healthy Eating to Live Longer and Happily
"Health benefits of Thai soup under study" CNN.COM

Welcome to Pad Thai Restaurant. Now you can enjoy our Authentic Thai food made with fresh locally grown ingredients. Pad Thai provides a unique combination of excellent Authentic Thai & Southeast Asian styled dishes for lunch and dinner at a value price.
Tray size order for your party starts at $45.99
Let Pad Thai helps with your next special occasion, and you can enjoy your event as much as your guests. Whether its for Potluck, office party, or dinner party. We have delicious Thai food party tray size with affordable price, you'll find exactly what you need to make your gathering not only easy, but a great success too. 6-8 serving per tray starts at $45.99, Seafood dish $55.99.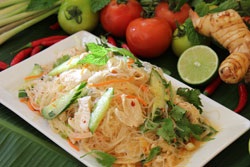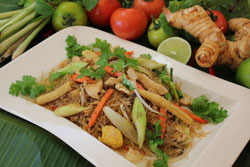 Long Rice Chicken Salad Fried Long Rice with Chicken

Pad Thai Shrimp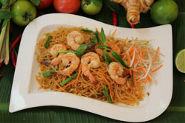 House Fried Chicken